Keeping you safe in your home is our number one priority. We work closely with South Wales Fire and Rescue Service to ensure your home meets or exceeds the latest safety standards, but we also need your help. Living in a block of flats makes you part of a special community which means you have to take some extra safety measures to keep you and your neighbours safe. 
New fire safety legislation 
The Welsh Government has introduced the Fire Safety Act 2021, new legislation which clarifies our fire safety responsibilities as the landlord for your home and building. This includes ensuring we monitor, manage and reduce the risk of fire in your block, including communal areas.  
Fire risks in your communal areas 
When you leave your flat, you may cross landings and balconies, walk down a staircase or through an entrance area which you share with your neighbours. 
These are known as communal areas. If your block had to evacuate in an emergency, your communal areas must be clear so you and your neighbours can leave safely and do not prevent or delay putting the fire out. It's because of this, we have one simple rule for all communal areas.  
They must be clear at all times.  
This is a requirement under the new legislation so we will be enforcing our 'keep it clear' policy for communal areas more strictly from now on.  
Items that are removed
If we spot any items in your communal area we will put a sticker on it and ask you to remove it within 24-hours. If the item is not removed we will take it away and put it storage for 28 days before being donated to charity or thrown away.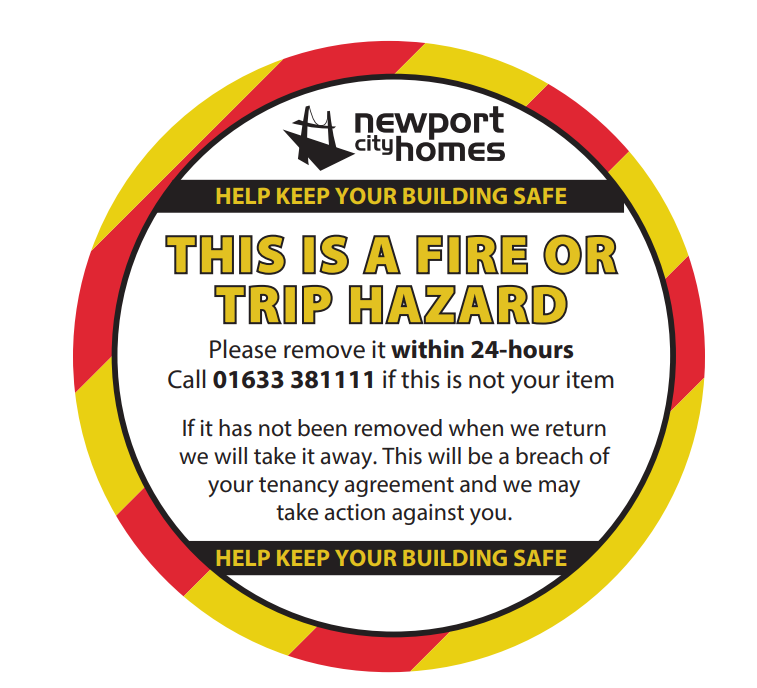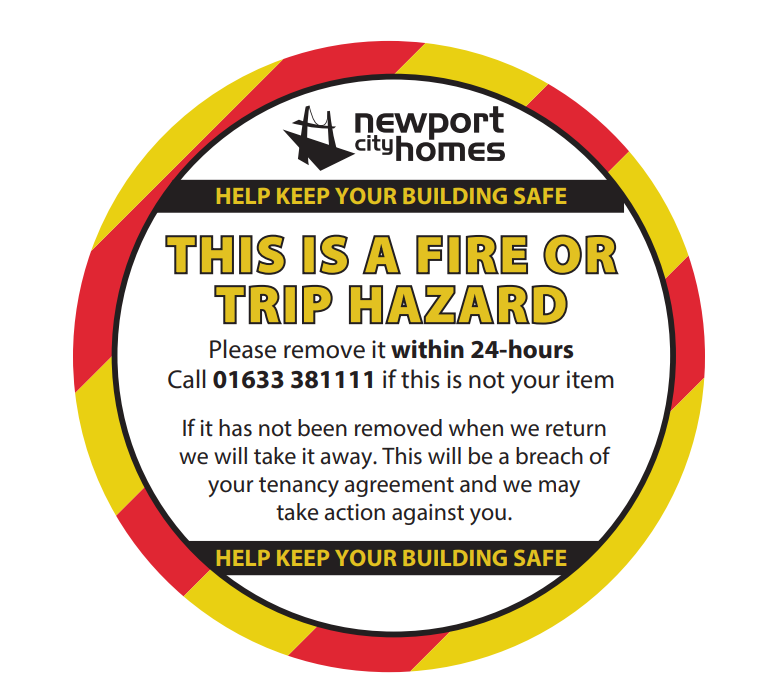 Share your ideas 
Your views and ideas are really important to us so please let us know about anything you think would work well in your home or block to reduce fire risk. Call 01633 381 111. 
Report a fire hazard
If items are left in a communal area in your building you can let us know. Call 01633 881 111 or fill in our online form. 
Cleaning your block
Our Communal Caretakers visit your block about once a month to carry out safety checks and clean communal areas. Click here to find out about the jobs that they do and your responsibilities.
Click here to download our leaflet on keeping communal areas clear.