Our work in St Johns has come to the stage where we have submitted the Pre-Application Consultation (PAC) to Newport City Council, please have a look at the information that has been submitted by clicking on this link Statutory Pre-Application Consultation (asbriplanning.co.uk)
NEW - These are CGI images (Computer Generated Imagery) of the 3 sites that will provide a clear and compelling understanding of what the new scheme will look like. However, this might change, subject to further design amendments.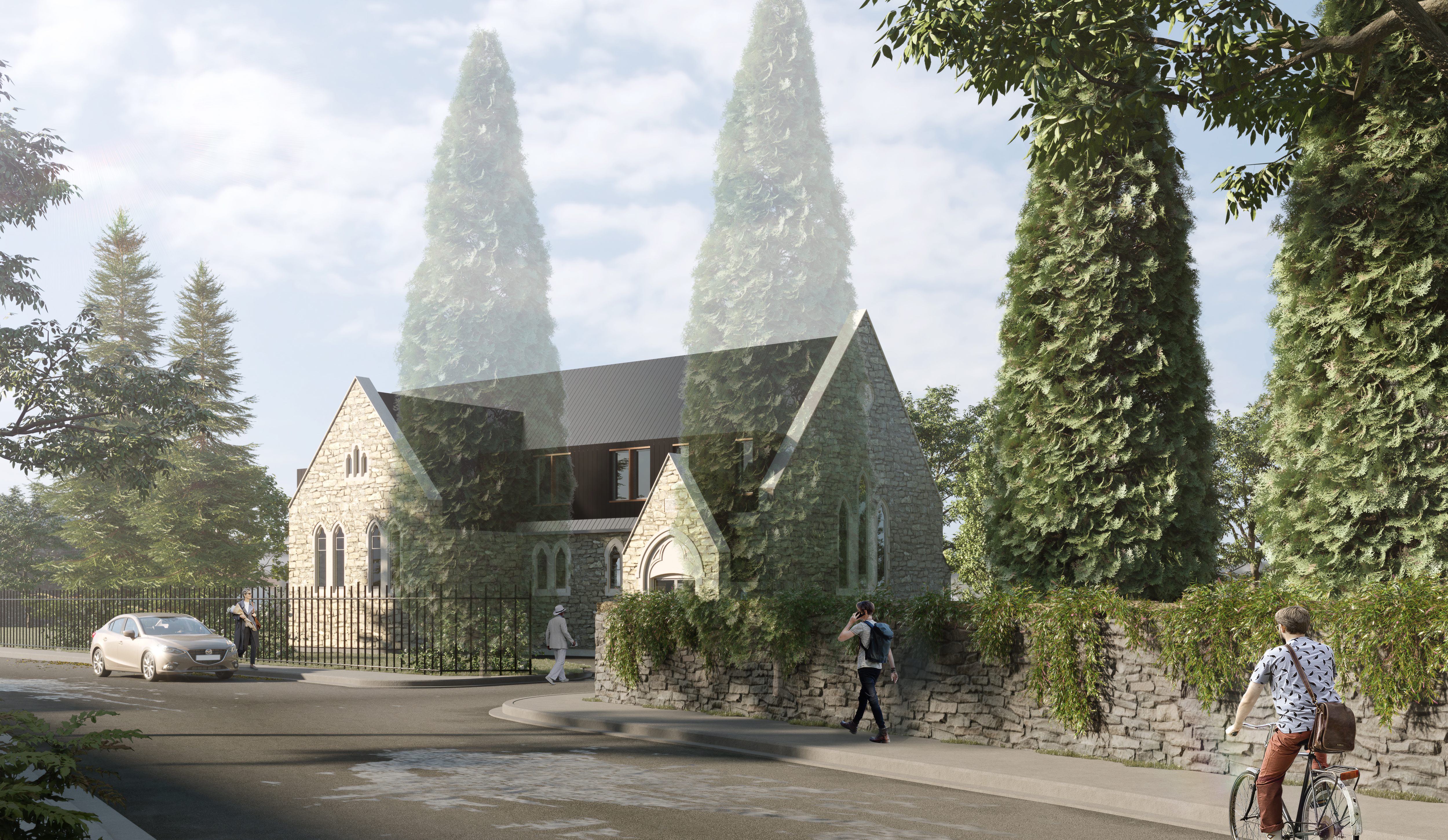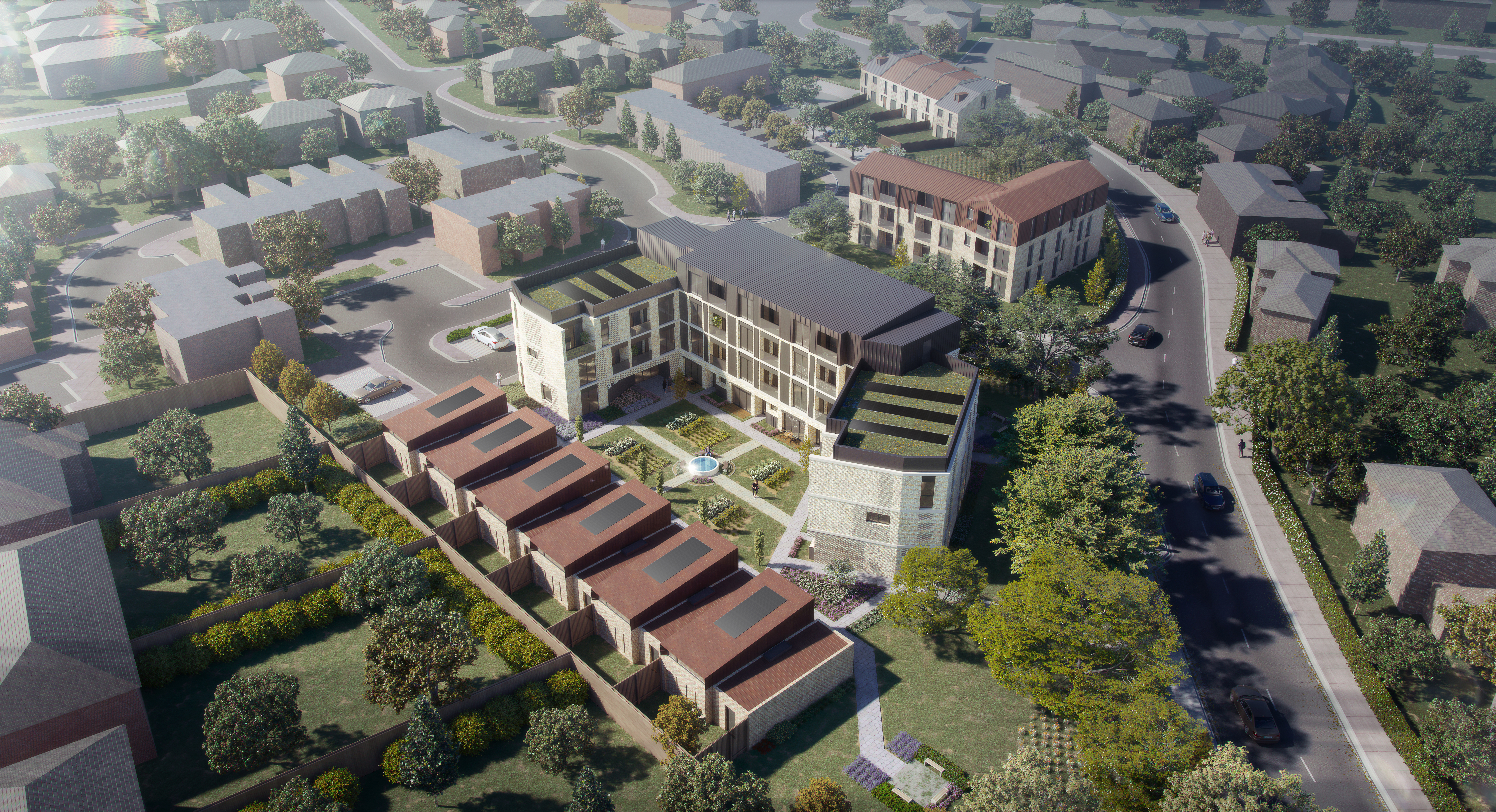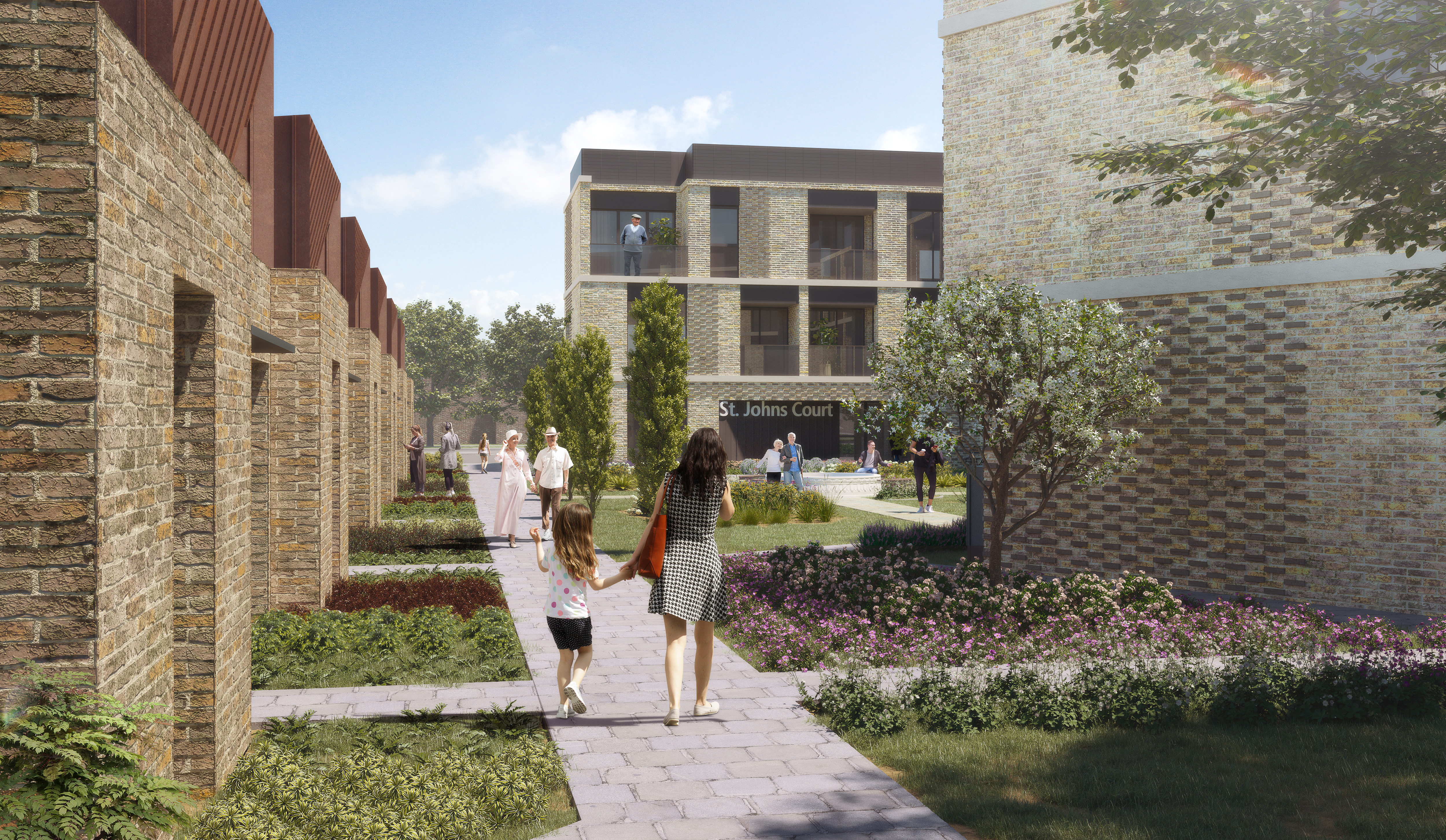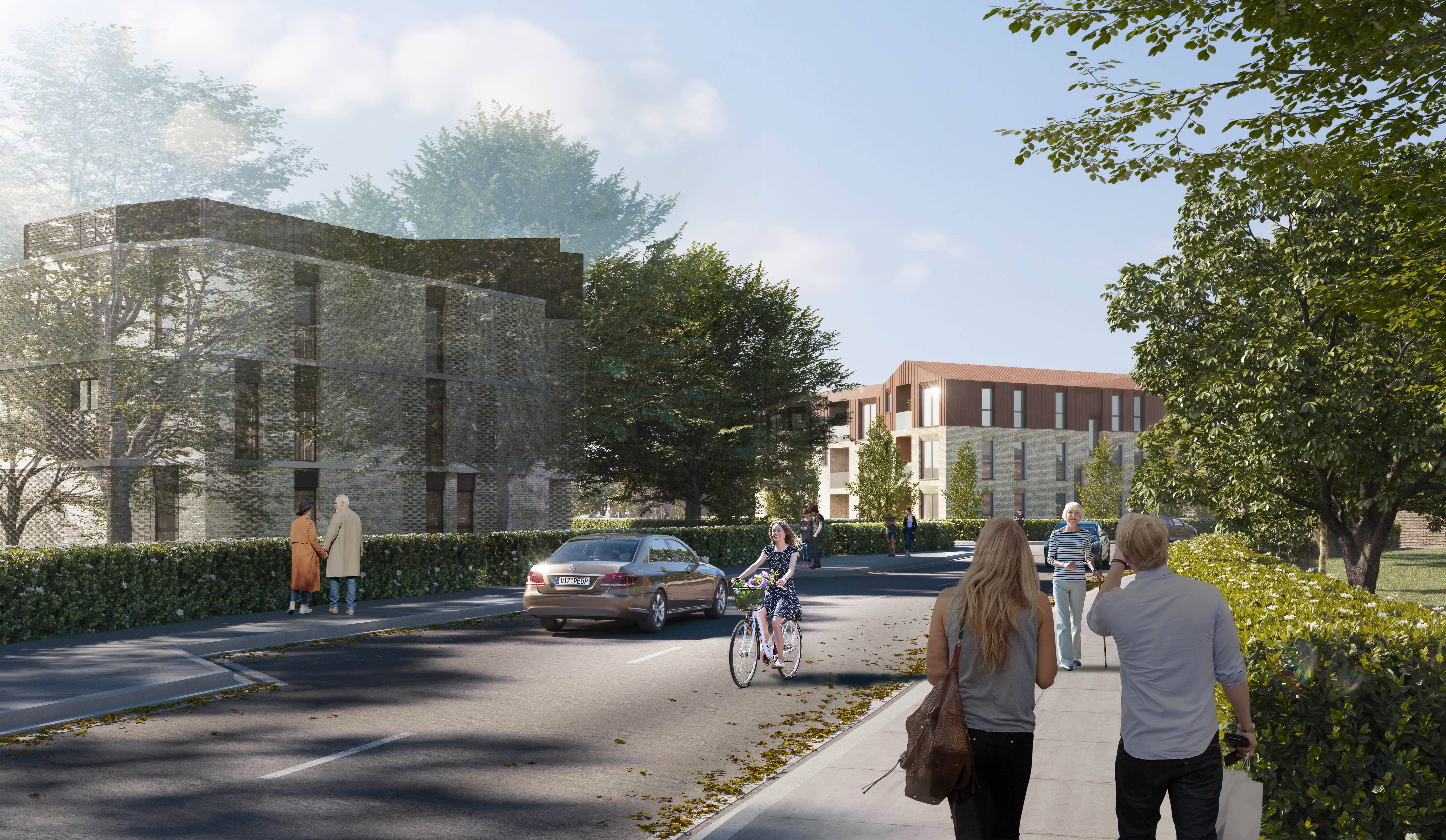 FAQs for St Johns' Court, Oak Road and St Johns Church proposed development
Consultation event – Tuesday 18 October
Please click here to view the boards that were presented at our consultation event on Tuesday 18th October.
We had a meeting as we were aware there were lots of concerns voiced at a meeting held by the Church on the Wednesday 22nd June 2022,
We have listened to these concerns and looked at how we can change the letting of these 6 x 1 bed flats, these properties will now be allocated to those over 55 years of age and we will also be putting in place a local lettings plan for our customers who are looking to downsize.
If you have any questions please contact Rebecca Sluman on 01633 227808 or [email protected]
Consultation event – Friday 8 April
Please click here to view the boards that were used at our consultation event on Friday 8th April. We did an event at Oak Road 10am-3pm for those residents and an event for the wider community on the same date at St Johns Church 4pm-7pm.
Board 1 – Site Context and overview for Oak Road, St Johns Court and the Church Hall
Board 2 – Opportunities and Constraints – Location and access to the site
Board 3 – Proposed site layout for Oak Road and St Johns Court
Board 4 – Proposed visuals for Oak Road and St Johns Court. Precedent images from other Schemes in the United Kingdom
Board 5 – You Said, We Did –  You said - showing issues and queries that were bought up in the first consultation event on Friday 4th

 

March. We did – NCH looked at these and provided comments to them
Board 6 – Proposed landscape showing, soft and hard landscaping and rain garden planting
Board 7 – Proposed Church Hall conversion – Showing site layout, ground floor and first floor plans
Board 8 – Feedback board – Asking for feedback on What do you like/dislike on the design proposal, What would you change/like to see in the design proposals, how can we address any concerns
Board 9 -  Prospective programme – timescales for the project
If you have any questions of this information please contact Rebecca Sluman on [email protected] / 01633 227808
What's happening?
We're working closely with the local community to carry out regeneration work in Oak Road.
What work are we carrying out?
Our work will involve demolishing 23 existing flats on Oak Road and replacing them with newly built homes.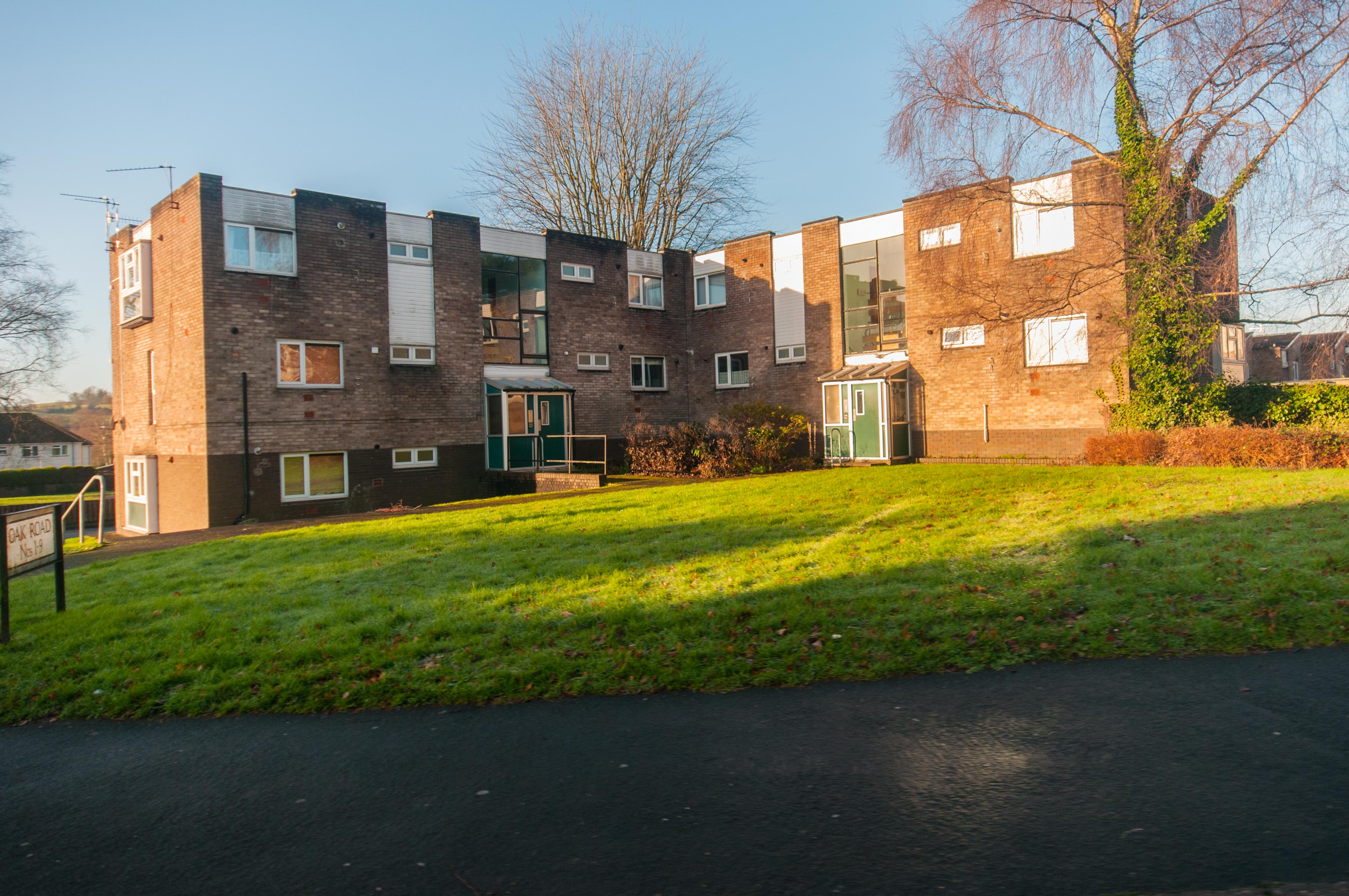 Our existing homes in Oak Road
A key part of our work is to build new, purpose-built homes for residents aged 55 and over on the empty land at St Johns Court before any demolition at Oak Road takes place. This means that we will have new homes ready for Oak Road residents to move into, in the same location.
What have we been doing?
At the moment, our focus is on developing the designs for the regeneration, and working with the community to understand your views and take these into account in our work.

We carried out our first community event at St. Johns Church Hall on Friday 25 February from 4pm to 7pm.
At this event, we shared our initial designs with the community.
If you missed it, don't worry.

You can see the designs here.

These designs show our proposal for St Johns, Oak Road and St Johns Church Hall. The designs include:
Site context and overview
Opportunities and constraints of these sites
Design Evolution, Scenario 3 is the option that we have opted for
Proposed site layout for St Johns Northern Parcel and St Johns Southern Parcel
Proposed visuals for the Northern and Southern Parcels
Proposed Church Hall Conversion
Proposed Sustainability Principles
Prospective Programme
What do you think?
We asked residents to share their views with us on the day. If you'd like to give us any feedback on these proposals, you can still do this by clicking here and completing our online form.
Our next community event – Friday 8 April
Our next community event will take place at St. Johns Church on Friday 8 April, between 4pm – 7pm.

Come and have a look at our latest designs, share your views and ask any questions you have of our project team.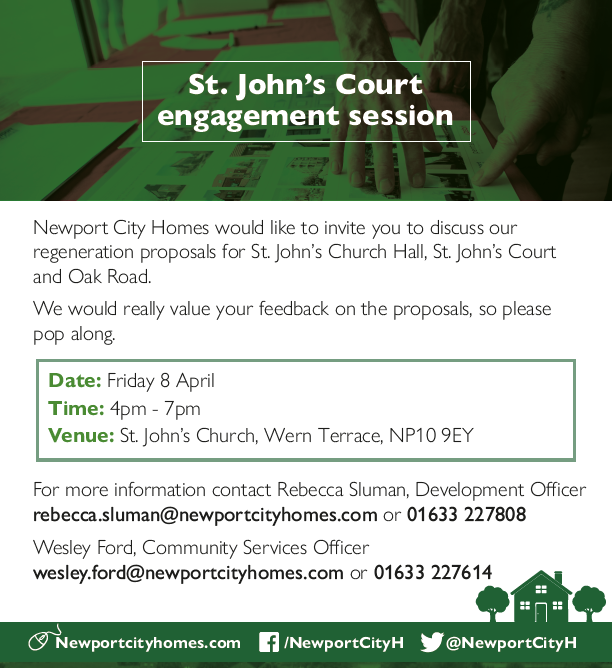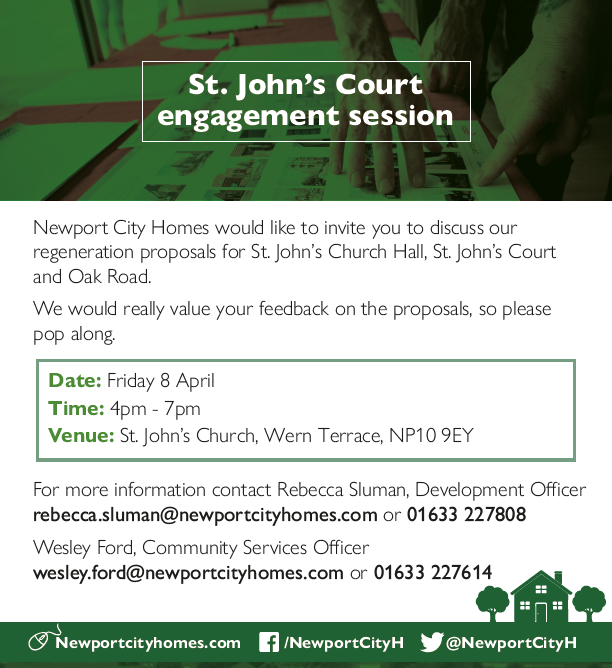 We'll be out in the community on Friday 1 April, delivering invites to commercial and residential homes that are close to the development areas. If you see us, feel free to stop and have a chat! We'll be more than happy to answer any questions you may have.
More information about our work

What addresses are affected by our work?
1 – 23 Oak Road 
How did NCH decide on regeneration and building new homes in Oak Road?
The first part of our work took place between February and July 2021. We engaged with residents in Oak Road who might be affected by any future work we carry out to understand how they felt about their home and community.
We took this feedback on board and developed a very early draft of what our future work could look like. We used these early plans to engage with the community and understand their views on several different options for Oak Road.
In looking at the options, we considered:
The results from the surveys we carried out, to highlight any issues which may need to be looked at
The options available, including the benefits and challenges this may present to the community and the potential costs
The views of the community and consultation responses from residents
Having considered all of the available information, we believe that the opportunity to regenerate Oak Road and and build new homes on the former St Johns Court site may offer the best long-term option for the local community.
This means that the option we are taking forward for Oak Road is building new homes.
We have written to and visited all affected residents to inform them of this outcome.
Timescales
A timescale for our work is set out below. This is an indicative timeline for the proposed development, and assumes no issues with each stage. We expect to begin building new homes in mid/late 2023, and we'll keep the community updated on our progress.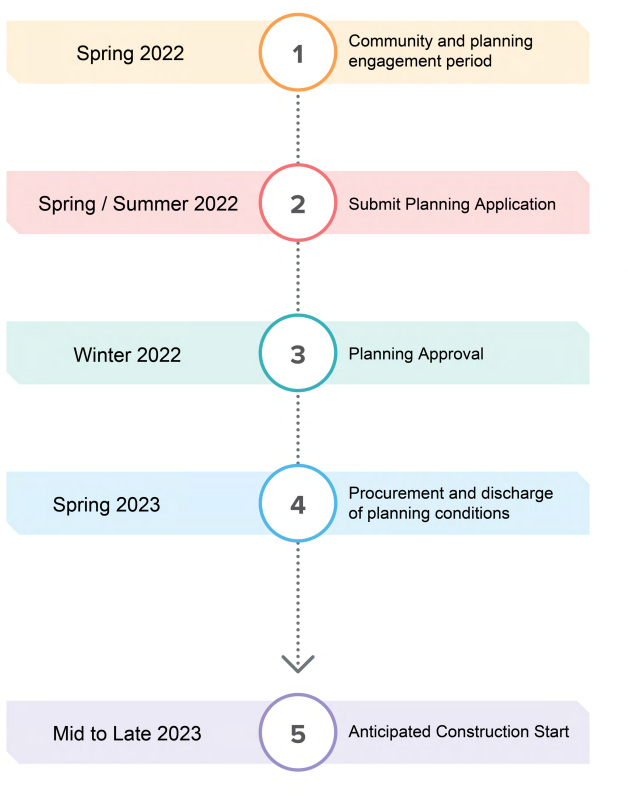 Who can I talk to about this?
We understand that residents may have further questions. There are several ways that you can get in touch with us.
Phone Kelsie Cantelo, Community Services Officer, on 01633 227637
Phone Rebecca Sluman, Development Officer, on 01633 227808
E-mail our project team at 

[email protected]
Previous communications 
Information pack for Oak Road residents (June 2021)
Online engagement session (June 2021)
Letter to residents stating outcome of work (September 2021)