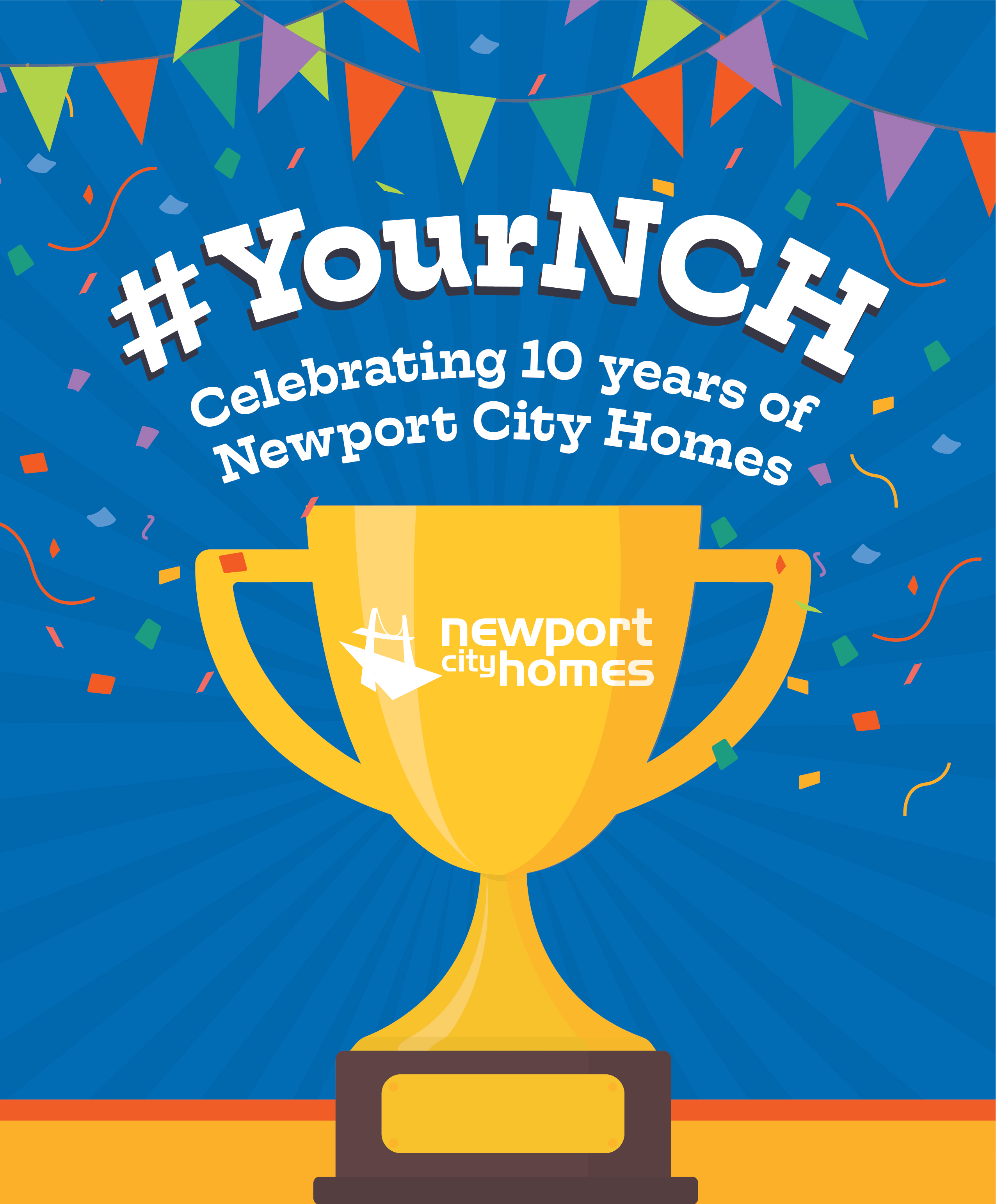 Do you know someone who deserves a #YourNCH Award?  
Newport City Homes is celebrating our tenth birthday - and we wouldn't be here without
you.
Our residents are Newport - and this year, we want to celebrate the amazing stories and achievements of our residents across the city.
Whether it's volunteering for local causes, helping out neighbours in need or being the go-to person for a cuppa and a chat, we want to hear about it. Maybe you know someone who always puts others before themselves, or who stepped in to offer much-needed support in an emergency situation.
The person you nominate should fall under at least one of the below criteria.
A resident who has made a difference to the community they live in
A resident who improves the life of an individual or group of people by caring for them on a regular basis
A resident who helps to make the neighbourhood or local community a better place to live or work, either on a regular basis or through a single act of kindness
A resident who has gone the extra mile to raise funds for a charity or good cause
A resident who has shown bravery or demonstrated an act of great courage in the face of adversity
A resident who has gone out of their way to help combat loneliness or social isolation within the community
If you're not sure whether you can nominate, let us know at communications@newportcityhomes.com, and we'll be able to help.
Nominate a friend, a neighbour or a parent - our only ask is that the person you nominate is a resident of Newport City Homes. You do not need to be a NCH resident to nominate.
We'll be highlighting your stories across our social media channels and a selection of the best entries will feature in our one-off 10-year report at the end of this year, which will be published on our website.
Our resident scrutiny panel - made up of NCH residents - will help us to shortlist our entries, and later this year you'll be able to vote for your winner.
Our winners will receive shopping vouchers of their choice to help towards Christmas 2019;
First place: £250
Second place: £200
Third place: £150
Thank you to all of our residents and partners who have all helped to make our first ten years fantastic – our vision is to provide homes in communities that people want to live in, and this is something we'll continue to work on as we look towards the future. 
How do I nominate?
Please fill out the nomination form below.
Can I nominate myself?
Unfortunately, you're not able to nominate yourself.
I'm not a Newport City Homes resident – can I nominate someone who is?
You are able to nominate whether you are a NCH resident or not – but the person you nominate must be a tenant of Newport City Homes or residing in a Newport City Homes property.
What happens when I nominate someone?
When you nominate someone, we'll contact them to let them know that they have been nominated for a #YourNCH Award.
We might contact you to ask for some further information, and we'll let you know what happens with your nomination and if your nomination is shortlisted.
Can I read the Terms and Conditions for these awards?
Of course – please click here to see the Terms and Conditions.
Got a question?
If you have a question, please contact communications@newportcityhomes.com.
#YourNCH Awards - nomination form