Climate change is happening now, and the impacts are already being felt by both humans and nature. We have a responsibility to act and to invest wisely for the long term and future generations.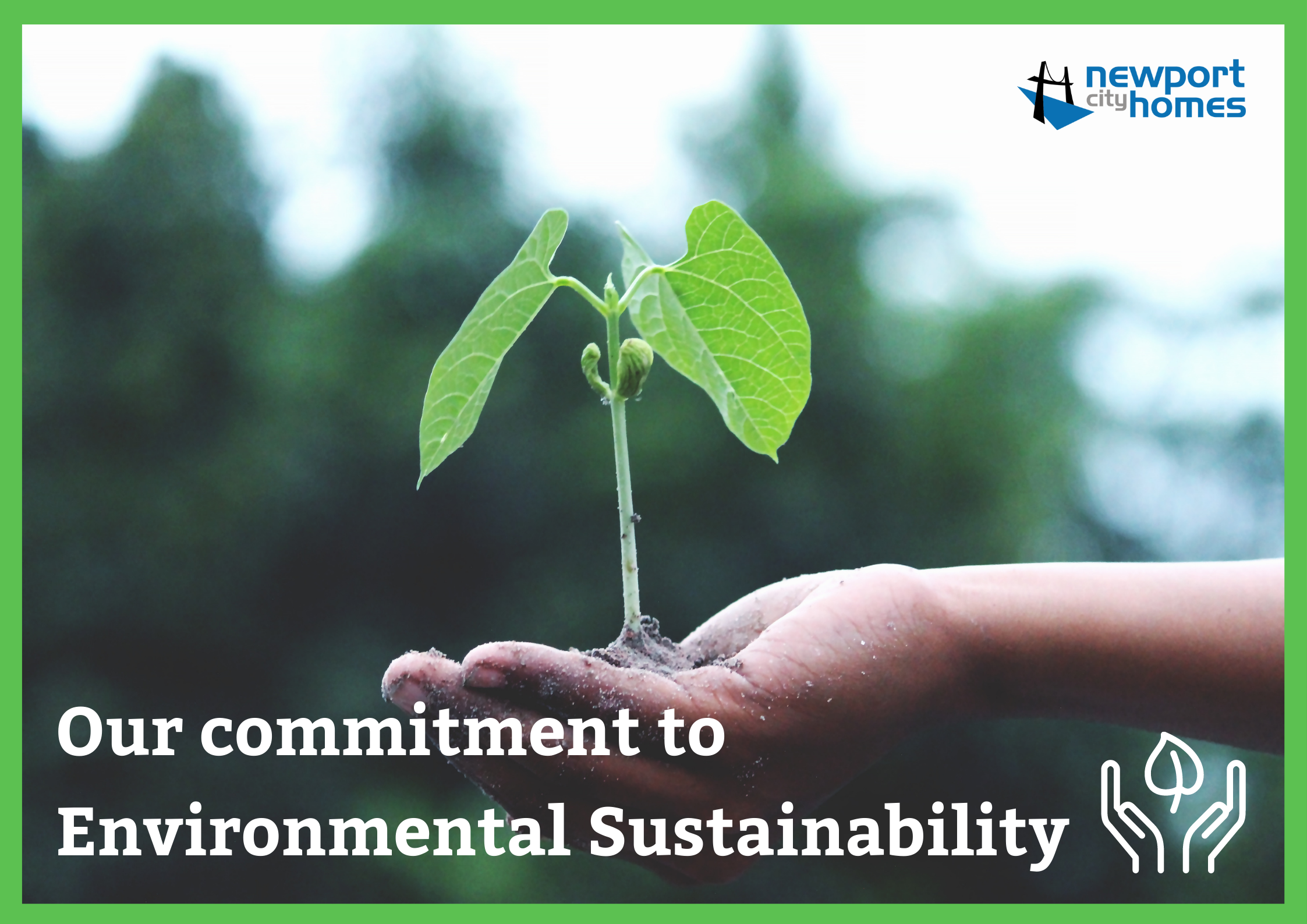 Our commitment to Environmental Sustainability sets out the steps we're taking to not only to reduce our emissions but to support our customers, colleagues and communities so that we all do our bit. Everyone has a part to play.
The way we transition to a greener future must focus on the people we serve, not the emissions we produce. Our customers are and will continue to feel the effects of climate change, and our investment in homes to make them more energy efficient will play an important role in tackling fuel poverty.
Our Environmental Sustainability principles
We recognise the climate and nature emergencies and will take responsibility to act.
We will invest wisely, for the long term and future generations.
We will place the interests of our customers first in delivering our environmental sustainability actions.
We can't do this alone and will involve and work with people who share our ambition.
Our Environmental Sustainability commitment
To deliver on our commitment, we have set out the steps we will take against four areas to relating our homes, customers, communities and the association.

Homes fit for the future
We will:
improve the energy efficiency of the homes we provide to reduce our carbon footprint, our customers' energy consumption and to tackle fuel poverty.
build new low carbon affordable homes.
continue to invest in the re-use of existing buildings as homes where it reduces the carbon cost of construction and encourages sustainable living.
Supporting customers to live sustainably
We will:
build awareness of the climate and nature emergencies and how our customers can make a real difference.
listen to and involve our customers to deliver a just transition together.
tackle fuel poverty and support our customers to ease the climate transition.


Sustainable places to live
We will:
enhance our green spaces, protect nature, and promote biodiversity through responsible management of our land.
support community-led projects that do their bit for the environment and wellbeing of local people.
continue to work in partnership to promote responsible management of waste.
adopt a placemaking approach to our development and regeneration activities and promote sustainable travel.
prepare for more severe and frequent weather events.
An environmentally responsible association
We will:
make more efficient use of our resources and reduce waste.
develop a carbon literate workforce and support our colleagues to work and live more sustainably.
transition to a low carbon vehicle fleet and encourage sustainable travel.
embed sustainability in purchasing decisions for products and services.
use our financial capacity to maximise investment to deliver on our sustainability ambitions.
use carbon off-setting to achieve net zero by 2050.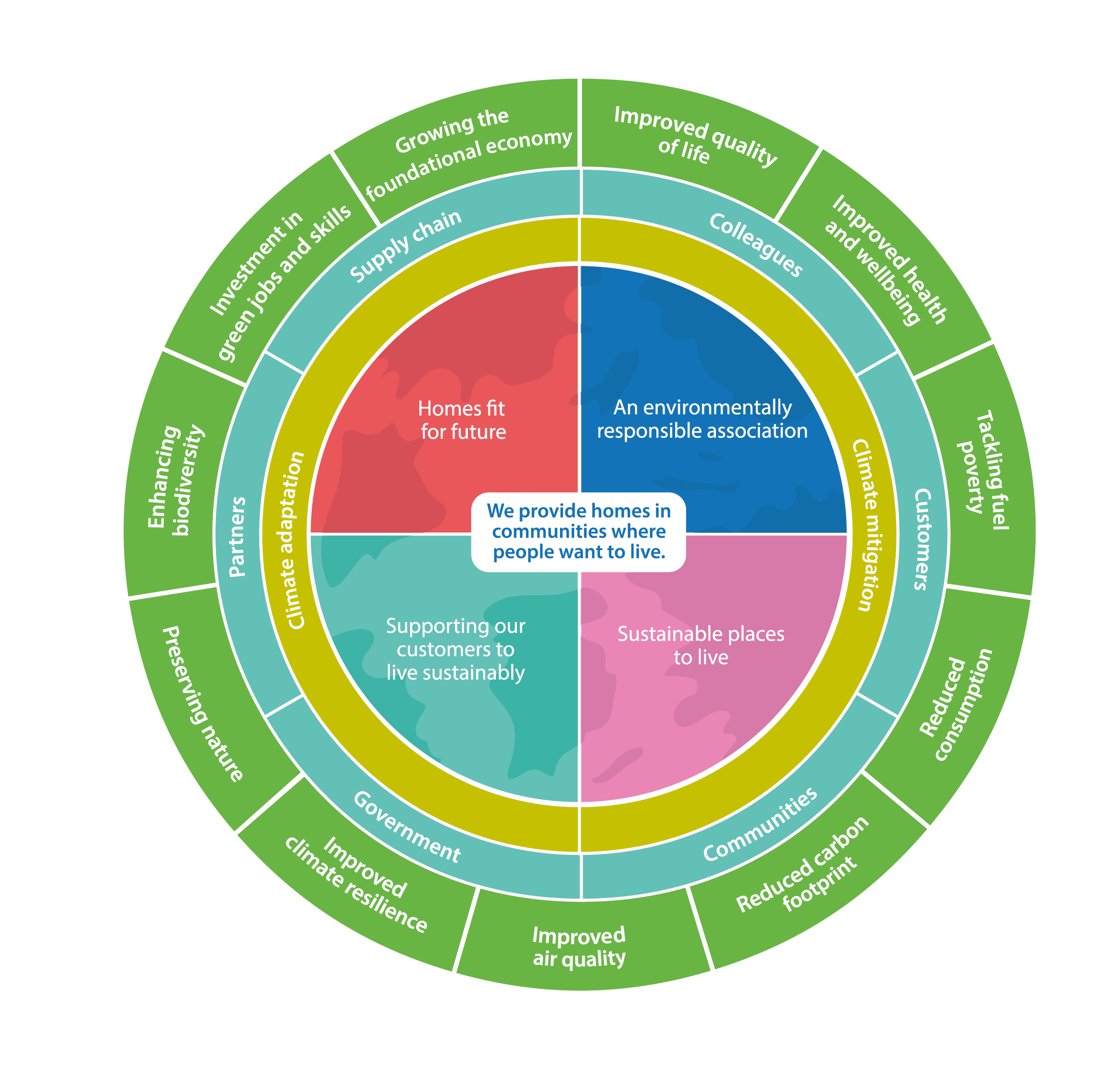 What does this mean?
Everyone has a role to play in helping us deliver against our commitment to environmental sustainability.
We will:
Work collaboratively to test and pilot the most suitable energy saving solutions for our homes through the Optimised Retrofit Programme.
Develop and deliver costed programme and long-term decarbonisation roadmap for existing homes.
Build new homes to Welsh Development Quality Requirements (WDQR 2021).
Trial modern methods of construction for new homes.
Provide support to customers experiencing fuel poverty.
Responsibly manage our land and green spaces and explore new approaches to improve biodiversity.
Deliver on our current partnership working with Newport City Council and Wastesavers to engage customers and encourage responsible waste.
Deliver a development and regeneration programme that contributes to green spaces, active travel and creating sustainable places to live.
Review land owned by NCH and consider areas for tree planting, rewilding, or alternative use to benefit the environment and local area.
Read our strategic commitment to Environmental Sustainability in full here.
In recent weeks we published our commitment to Equality, Diversity & Inclusion, and we will also be publishing our commitment to Growth in the coming weeks.
Collectively, these reflect our commitment to respond to some of the biggest challenges facing our customers, communities and the environment, as well as the opportunities we're presented with.
Together, these commitments will help us to meet the aims set out in NCH Strategy 2025.
If you would like to receive this information in a way that's better for you, please contact us at [email protected].