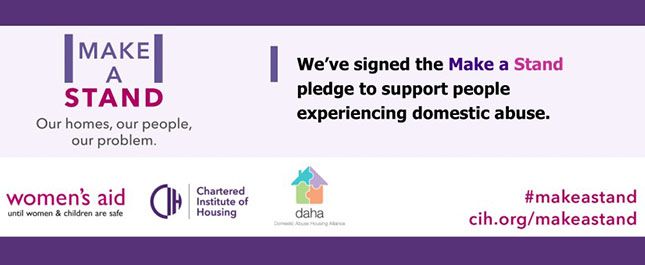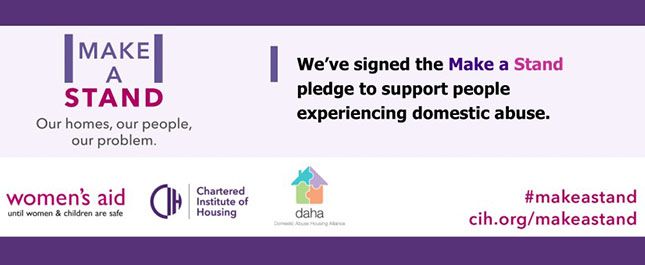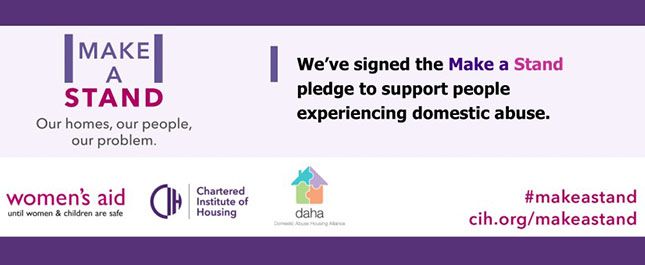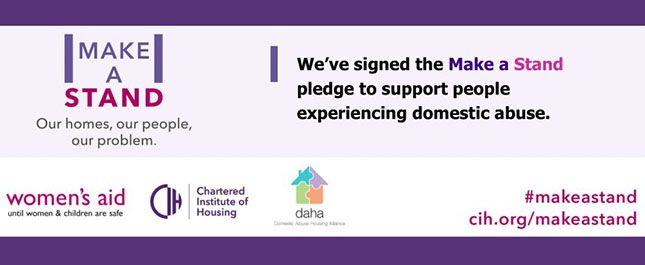 An estimated 7.9% of women (1.3 million) and 4.2% of men (695,000) experienced domestic abuse in the last year.
Two women are killed every single week by their partner or ex-partner.
An estimated 28.9% (4.8 million) of women aged 16 to 59 years have experienced some form of domestic abuse since the age of 16.
On average, the police in England and Wales receive over 100 calls relating to domestic abuse every hour.
Only 18% of women who experienced partner abuse in the last 12 months reported the abuse to the police.
Making a Stand
 As a housing association, we provide a home for thousands of people across Newport. A home should be safe and secure – and yet, for many, home is anything but safe as they experience domestic abuse behind closed doors.
We have signed the 'Make a Stand' pledge, demonstrating our commitment to tackling domestic abuse and sexual violence experienced by our residents across Newport.
The pledge is an initiative developed by the Chartered Institute of Housing in partnership with Women's Aid and the Domestic Abuse Housing Alliance, created to encourage housing organisations to make a commitment to support people experiencing domestic abuse.
What is domestic abuse?
Domestic abuse is an incident or pattern of incidents of controlling, coercive, threatening, degrading and violent behaviour, including sexual violence, in the majority of cases by a partner or ex-partner, but also by a family member or carer. It is very common.
Domestic abuse can include, but is not limited to, the following:
Coercive control (a pattern of intimidation, degradation, isolation and control with the use or threat of physical or sexual violence)
Psychological and/or emotional abuse [2]
Physical or sexual abuse
Financial or economic abuse
Harassment and stalking
Online or digital abuse
If you are experiencing domestic abuse
National Domestic Abuse Helpline
The National Domestic Violence Helpline is a free, confidential helpline run by Women's Aid and Refuge for anyone experiencing domestic abuse and is available 24 hours a day, 7 days a week.
Women's Aid
Women's Aid provide a range of information and support on domestic abuse, including support for those experiencing domestic abuse and for people who are concerned that others may be.
Respect
Respect is the UK membership organisation for work with domestic violence perpetrators, male victims of domestic abuse and young people's violence in close relationships.
Helpline for people concerned about their behaviour – 0808 802 4040
Helpline for men experiencing domestic abuse – 0808 801 0327
Live Fear Free
Live Fear Free is a Welsh Government helpline giving information and advice for people suffering with domestic abuse or sexual violence.
The helpline is free and staff are available 24 hours, seven days a week with information, support and signposting. Call 0808 8010 800 or visit the Live Fear Free website.
How we can help
If you're one of our residents and are experiencing domestic abuse, we have a Housing Management Policy which describes how we can help.
Click here to access the policy